Holistic Core Restore® Back Pain Solution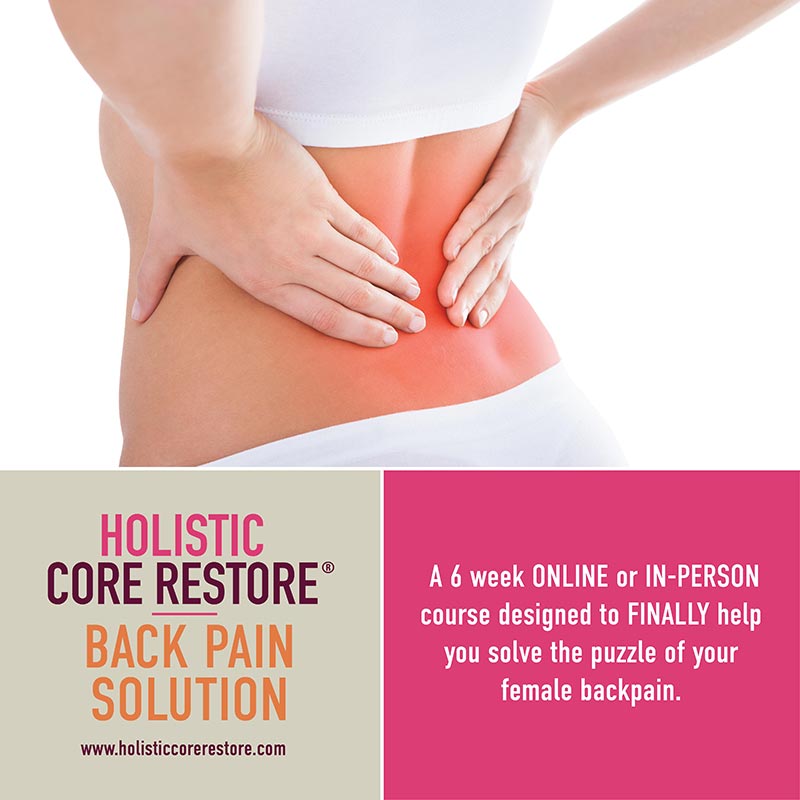 Who is the programme for?
This six week programme, created by our Clinical Advisor + Women's Health Physiotherapist – Michelle Lyons is designed to help you TAKE CHARGE OF YOUR SPINAL HEALTH – from your TMJ's (your jaws) to your Tailbone (your coccyx) and all the way down to your toes (The Triple T approach!) Delivered via Zoom during the coronavirus pandemic, this programme is specifically designed for women because women ARE different to men and need a bespoke apporach.
Over the course of six week, we'll cover whole spine mobility and strength; we'll work together on building resilience in your pelvic core and breath, as well as a toolbox to gain mobility in your WHOLE spine and show you how to put it all together. I'm not guaranteeing you'll never have another back injury, but want to show you how to 'control your controllables' when it comes to the most common issues women face with back pain.
Week 1:
Whole spine warm up, focus on thoracic mobility and breath, guided relaxation
Week 2:
Connecting with your coccyx and pelvic floor, bowel health and back pain strategies
Week 3:
Jaw and neck pain – what can we do?
Week 4:
Hip and pelvic strength & mobility
Week 5:
Focus on bone health and back pain
Week 6:
Putting it all together, building mobility and calming down the nervous system
Courses
Currently taking bookings for:
**THIS COURSE HAS CURRENTLY SOLD OUT PLEASE EMAIL ME INTEREST FOR NEXT AVAILABLE COURSE**
Wednesday Evenings at 8pm via ZOOM:
Weds 14th April – Weds 19th May
Price: £87
Strictly limited to 5 places
** please note some kit will be required – I may be able provide you with this at cost price
Reserve your place today
Book your next Holistic Core Restore® Back Pain Solution Course online
You may reserve a 6-week course in advance here. Please note by paying online, you are accepting the following terms and conditions.
Prior to the course starting you must complete an online Pelvic Health questionnaire.
The cost of the course is non-refundable and non-transferable.