Holistic Core Restore® Everywoman
Are you a woman who wants to know more about your Pelvic Floor, Core and to take control of your overall health?
Have you experienced the odd leak when jumping, running, laughing, lifting or sneezing and know that's a sign that you need to pay attention to your Pelvic Health?
Are you a woman that wants an easy to perform ANYWHERE, modern and effective way to reconnect with and re-establish the role of your pelvic floor and core as part of your whole body?
Do you have a small Diastasis Recti (tummy gap) that you want to heal?
Do you have lower back pain issues that you have been told os due to a 'weak core'?
Are you ready to prioritise this area of your health and learn ESSENTIAL skills to last you a lifetime?
Do you want to learn the importance of rest, self care and nourishment for your deep health and wellness?
Have you seen a clinician about a low level pelvic organ prolapse and been told to 'do your pelvic floor exercises' as part of your management strategies?
If you've answered YES to any of the above questions then THIS PROGRAMME IS FOR YOU?
Deeply reimagined in 2023, a decade since it all started, Holistic Core Restore® Everywoman 2.0 truly meets women where they are NOW. The programme has been updated with a deep and wide understanding that increased stressors in our lives has increased the need for nervous system nourishment.
During the course you will receive care, support and guidance for your mind and body, returning a sense of connection for your precious body before moving on to functional, strengthening movement and release.
Since the pandemic and going forwards I am delighted to be able to offer the Holistic Core Restore® Everywoman course via live face to face sessions 1:1 or in small groups on Zoom. Please message me to discuss 1:1 coaching. See below for small group courses:
The next Small Group 6 week Course is TBD:
Price (Small Group): 
£147 for brand new participants
£107 for previous participants keen for a six week refresh and understanding of the new content
*Please note that your space on the course is only guaranteed upon receipt of payment, with a maximum of 8 spaces on offer.
The costs included all homework videos, ongoing support between sessions and all of the equipment you'll need and a pre course phone consultation.
Training system includes:
6 week VIRTUALLY LIVE course
Full pre-screen and pre course phone consultation to talk through the form, the nature of the course and to answer any questions about the programme
Your own Holistic Core Restore® kit
12 months access to our online portal for progressed homework exercises, plus a huge amount of supportive content
Group support from me via a private WhatsApp group.
'Time to Talk' with me and fellow club members
An opportunity to join a continuation programme / class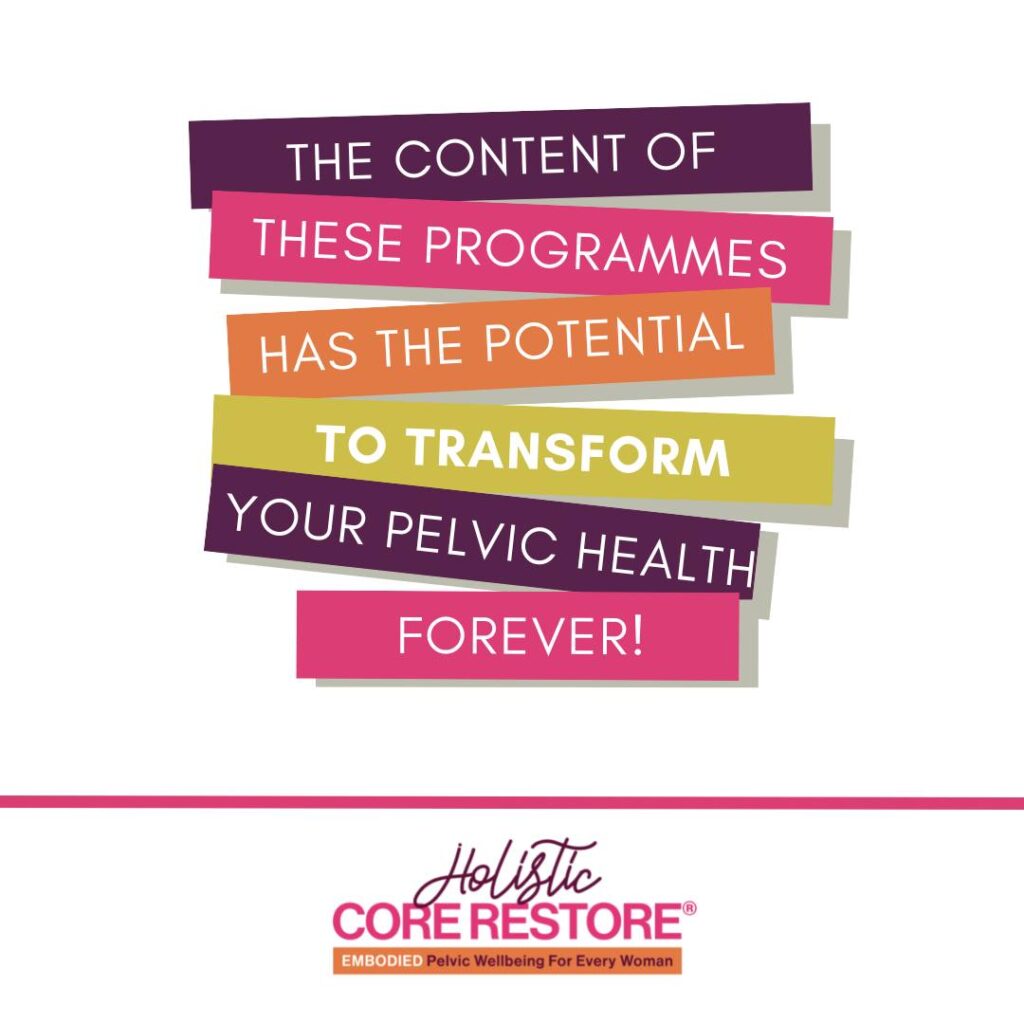 Book your next Holistic Core Restore® Course here
You may reserve your place on a course in advance here. Please note by paying online, you are accepting the following terms and conditions.
The first timer payment includes the cost of your Holistic Core Restore® kit (please select this option below)
All participants must have completed the online Pelvic Health questionnaire before commencing classes and attend at their own risk. I will send you the link for this.
Payment for the course is non-refundable and non-transferable.
Choose an option below to pay in full either as a First Time participant or as a returner with kit and previous portal access: