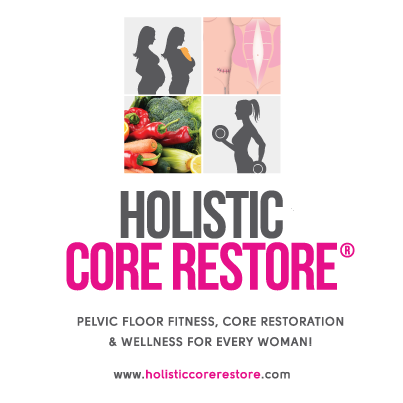 This unique and ground-breaking 6-WEEK, instructor-led programme will empower you through simple education and MOVEMENT-BASED PELVIC FLOOR EXERCISE to get you re-connected to your pelvic floor and entire core and includes eduction on nutrition and women's fitness/wellness at whatever life phase you're in. The programme is adaptable for virtually all women and is designed to 'bring you back home' to your amazing body with your pelvic and core health at the centre of your focus.
In 6 weeks, with regular homework you'll be the owner of a stronger back, a  better-looking tummy and of course a stronger and better-functioning Pelvic Floor.
"This is an excellent programme that really delivers results. I would recommend this to anyone who needs to focus on their core and pelvic floor" – feedback from a Holistic Core Restore® client after her 6 week course
Restoring CONFIDENCE & CONTINENCE!
Take a look at what women have to say about the courses I've led here.

How Does it Work?
On application to join the programme, I will ask you to complete a HCR pre-screen to see if the programme is right for you.
I then meet with you to go through the pre-screen and check your core function to make sure that the programme can be tailored to your needs.
At your first session you'll receive your HCR education booklet and the kit you need to complete the homework exercises on the course.
You will also receive login details via email allowing you access to additional filmed homework exercises, healing education and nutrition and recipe booklet.
The programme runs for 6 weeks and we meet for a class once a week during this period. Additionally, you will be asked to complete your homework exercises 4-5 times during the week. The homework exercises are progressed over the course of the 6 weeks, so as your strength and co-ordination improves, you become more challenged.
I make very regular contact with you throughout the course to ensure you understand what you need to do and are actually doing the work. You will receive full support to ensure that you have the best opportunity to get the results you want.
To find out about courses and venues click here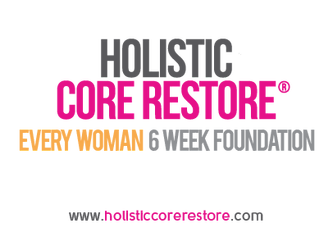 Who is Holistic Core Restore® for?
Are you a woman who wants to know more about her pelvic floor, core and overall health?
Have you experienced the odd leak when jumping, running, laughing, sneezing or coughing and know that it's time to take control of your pelvic health?
Do you have 'lower back pain' issues that you've been told is due to a 'weak core'?
Do you want a better looking tummy but know it's an inside out job so need to go deeper and work smarter than just doing sit-ups?
Do you have a small diastasis recti (tummy gap) that you want to heal?
Have you seen a clinician about a low-level prolapse and been told to 'do you pelvic floor exercises' as part of your management strategy?
Do you want to learn about the importance of food, not just for fat loss but for nourishing your health?
Are you ready to learn the importance of rest and self care as part of your wellness journey?
Are you ready to prioritise this area of your health and learn ESSENTIAL skills to last you a lifetime?
If you've answered YES to any of these questions, then you will gain enormous benefits from completing the course.
Additionally, I also have links with  Women's Health Physiotherapists. As your coach, I'm well aware that incontinence issues sometimes need to be referred to medical professionals and will facilitate and support you connecting with the right specialist to get you what you really need. This programme is in the business of solving problems, giving women a voice to ask for help and not glossing over your concerns. We'll also have a few laughs while doing it 🙂
Course dates and venues are here.
Take a look at what Jenny Burrell (founder and creator of the programme) has to tell you.
Introducing Holistic Core Restore® from Jenny Burrell on Vimeo.