Super Soup
Here's a really quick and simple soup that's nutritionally fantastic, tastes great and is  (sometimes) liked by children!
Red Lentil Soup with Turmeric and Sunflower Seeds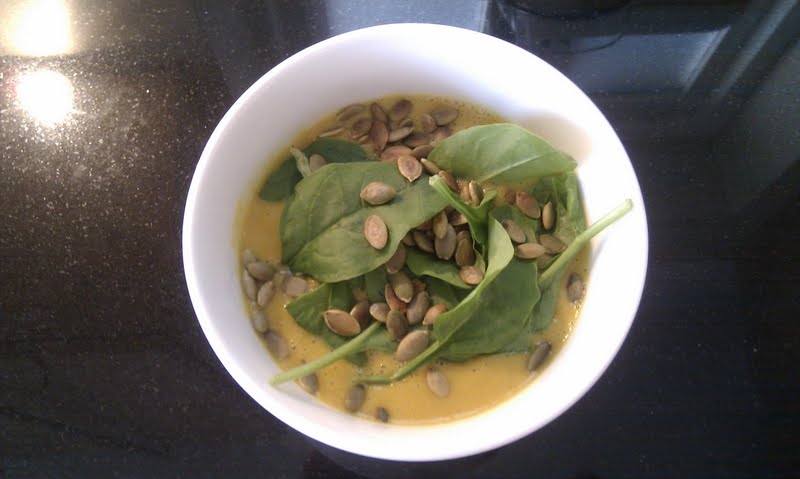 Benefits:
Lentils have so many benefits. A high source of protein without any heart damaging nasties, they are also packed with important minerals, significantly folate and magnesium, as well as being high in fibre. They are also brilliant at soaking up flavours, so this soup is even nicer the following day!
Turmeric is proving to be a bit of a 'super-spice', noted for it's anti-inflammatory and  anti-oxidant benefits.
Topping the soup with toasted sunflower seeds adds texture and more importantly they're a great source of Vitamin E and selenium.
I throw in other vegetables when they're around – try butternut squash, red or yellow peppers or sweet potato. All yummy.
Ingredients:
1 tblsp coconut oil
One small onion (chopped)
3 carrots (chopped)
1 stick of celery (chopped)
Garlic (finely chopped)
1 tsp turmeric
½ tsp paprika
150g red lentils (rinsed and drained)
750ml vegetable stock
Handful of toasted sunflower seeds
Handful of baby leaf spinach
Method:
Gently heat the coconut oil in a large saucepan. Once melted, add the chopped vegetables and sweat gently for 5-10 minutes.
Add the garlic and spices and stir for a further minute or two.
Add the rinsed lentils to the pan and stir to cover with the oil and spices.
Pour in the stock, stir, bring to the boil then reduce to a simmer for 25-30 mins.
Once the lentils are soft and cooked through, blend if desired, pour the soup into bowls and top with the toasted sunflower seeds and spinach (this wilts nicely into the soup)
(Serves 4)