The Wise Man…..
Do you remember the old parable about the wise man? Without getting too biblical, it went something like this (in fact, at my primary school we even sang a song)…..
The wise man built his house on solid rocks. When the rain and the wind came, his house stood firm. The foolish man lost his house, because he built it on sand. It couldn't withstand the elements and all that was thrown at it. Bad weather – don't we have plenty of that!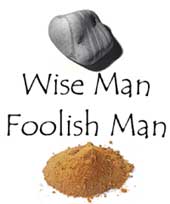 Recently I had some feedback from a regular at my Buggyfit class.  Here's what she said:
"I started Buggy Fit at 11 Weeks post C-Section. I really wanted to regain my fitness as soon as possible and lose the "mummy tummy". I was keen to run and work my core. My instructor, Kate, assessed me before starting the first class and advised me I had a slight separation of the abdominal muscles- Diastasis Recti. She advised me to begin slowly and no "plank" exercises as this could prolong or worsen the separation of my abdominal muscles. I followed her advice and have been attending the classes for 8 weeks and really notice the difference. My abdominal muscles have healed and I my fitness has improved. It was worth going slowly!!
A 'Wise Woman' indeed and when that stuff is thrown at her…. the running, the planks, guess what? That house is going to withstand the elements and remain stable.
If you're worried about your core and/or pelvic floor, check out my FooFooFunClub classes, or my 1:1 Holistic Diastasis Healing programme. https://katesmartfitness.com/holistic-core-restore/
Build on the rock!!