Super Grain Salad
Quinoa with feta and pomegranate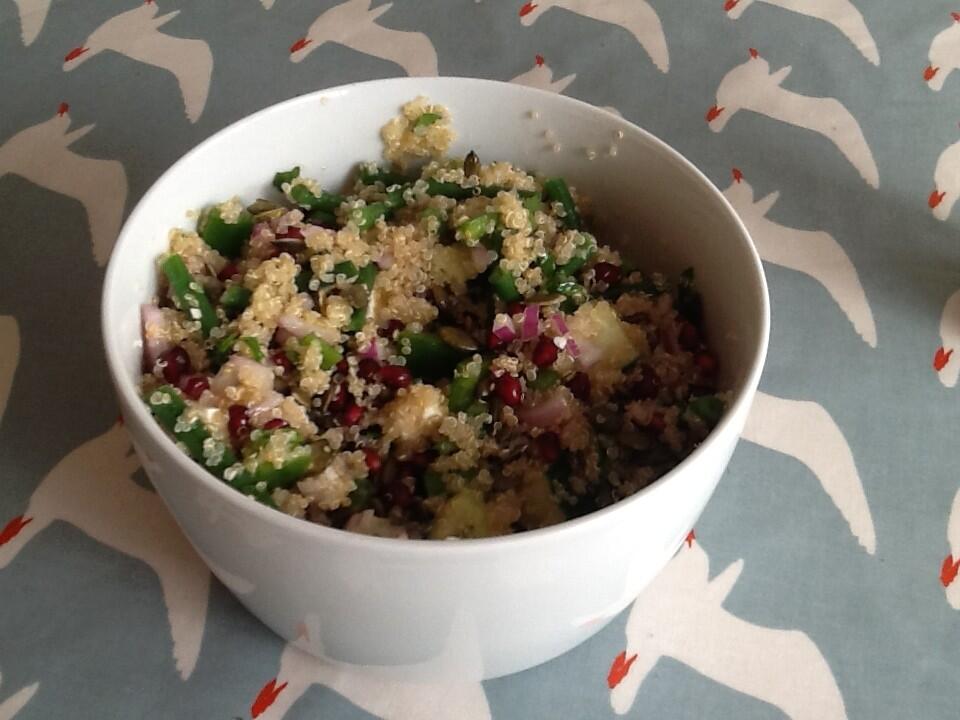 Benefits
Often referred to as a 'super grain', quinoa has an unusually high protein to carbohydrate ratio which makes it a useful ingredient in regulating blood sugar. When I made this for lunch, I had no hunger cravings all afternoon, and this recipe makes loads! It is also high in fibre and many vitamins and minerals, particularly B vitamins and magnesium. As well as adding colour, sweetness and crunch to this salad, the pomegranate seeds are full of cancer fighting anti-oxidants.
Ingredients
150g quinoa
150g green beans
a handful of pumpkin seeds
a handful of flat leaf parsley
2 tblsp lemon juice
3 tblsp extra virgin olive oil
1 Sicilian or 1/2 a normal cucumber
1 red onion
150g feta cheese, crumbled
100g pomegranate seeds
Method:
Rinse and cook the quinoa according to the packet instructions
Blanch the green beans in a pan of boiling water and refresh under cold running water
lightly toast the pumpkin seeds in a dry non-stick frying pan
Once cooked, put the quinoa in a bowl with the parsley, oil and lemon juice.
Stir in the green beans, chopped cucumber and finely chopped red onion
Sprinkle on the pomegranate seeds, feta cheese and pumpkin seeds
Serves 4 (or 2 with leftovers!)