A lovely Autumnal lunch
Hallowe'en – a time for pumpkin carving, trick or treating and for most of us a huge overload of sugary things that we have appropriated from our children's Hallowe'en haul….. or is that just me?
Raiding the organic veg box that I get delivered every week, I have just made this delicious veggie curry which is full of anti-oxidants, good fats and yumminess, all helping to counter balance the effects of Friday night. We had it as a soup for lunch, but it would be equally lovely with some brown rice as a main meal. If you're not a veggie, adding prawns, cooked chicken or even some roasted salmon to this would be superb!
Roasted Cauliflower and Mushroom Curry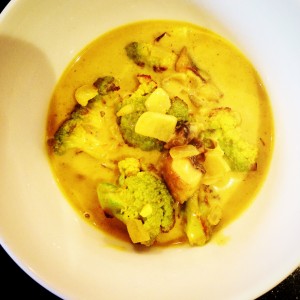 Ingredients
1 Cauliflower (mine was a lovely green colour!) broken into florets
coconut oil
punnet of mushrooms (mine were chestnut)
1 onion, chopped
2 cloves garlic, minced
2 cm chunk of ginger, minced
1tsp each of ground coriander, cumin, turmeric, garam masala
pinch of chilli flakes
1 can of coconut milk
Method
Place the cauliflower florets in a roasting pan, dabbed with coconut oil and roast at 180 degrees for around 20 mins
Meanwhile, melt another tblsp of coconut oil and fry the onion, garlic and ginger for 5 mins.
Add the mushrooms for a further 5 mins
Stir in the spices and cook for a couple of mins before pouring in the coconut milk.
Bring to a simmer and add the cauliflower once it's roasted.
Cook for a further 5 mins in the broth.
Serve into bowls. This made enough for 3 of us as soup for lunch.
Enjoy!